I'm happy to announce that Shannon Page Design got a makeover....a much needed one at that.
She was looking sad and tired and needed a major upgrade.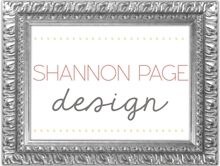 Do me all a favor and
head on over and take a look
!
Also...if I've designed your blog grab my new button while you're over there and put it on your blog...if you really love me you'll do it:) No?
Side note...
what ever happened to Teddy Geiger?
He's on my Pandora right now and I'm thinking he must be over 18 by now....
Double side note....
Since working for myself I've found my favorite Pandora station is a mix of Frank Sinatra, Dean Martin & Michael Buble....it's really working for me....along with a daily venti from Starbucks:)
Adios amigas!