Miss Lindsey has resurrected Friday Favorites!!
So what am I going to do on this fine, sunny Friday??
I'm going to show you my latest favs!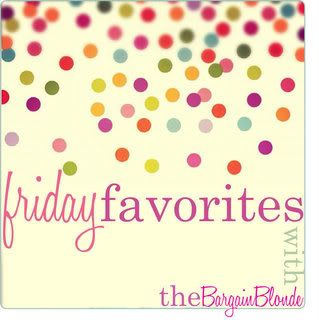 So remember
this post
where I told you what was on my September Beauty Wish List??
Well one of my best gf's read that post and bought me this AMAZING body scrub for my birthday.
I have no words for part one of the Real Housewives of New Jersey reunion. It's a complete train wreck and I literally could not peel my eyes away from the TV when I watched it. They were talking about each other's blubber, crying, yelling....it was pure insanity. And don't even get me started on Rosie....I am terrified of her.
I purchased these "
gallop cowgirl boots
" from
Shoedazzle
back in May and didn't really wear them too much over the summer (obviously summer=flip flops) but
NOW
? Now I am obsessed with them. They are comfortable and I'm pretty sure my husband is sick of seeing them on my feet!
You know me and my Sinful Colors polish!! I love it! I think I purchase a new one EVERY time I walk into Walgreens. They're $1.99 - how could I NOT buy one every time? My newest hue is called Timbleberry and I'm LOVING it!
So I made the
mistake
greatest decision ever to take home the rest of my Purple Velvet birthday cake from my parents house last Sunday...and I have been eating it every day ever since....for lunch....and I haven't shared one bite with anyone. I am OBSESSED with this cake!!:) The
bakery
that makes this cake is the same
bakery
that made our wedding cake. They are FANTASTIC!
Now it's time to announce the WINNER of my birthday Giveaway!!!!!!!!!!
I know I said I was going to announce the winner after Columbus Day....but I'm not the sharpest tool in the shed and somehow checked off the wrong end date for the sweepstakes and it's already over!
So why not brighten up someone's Friday morning and give them a new curling wand??
Send me your information and you'll be curling your tresses in no time:)
a Rafflecopter giveaway
Enjoy your LONG weekend, lovelies:)