Happy Wednesday Friends!!
Is anyone else PSYCHED that we have reached hump day?? I have some fun plans lined up for this weekend so I am ready for this work week to END!
Speaking of work....I've decided to link up with your other favorite blonde, Miss Lindsey from
The Bargain Blonde
to show you all.....
"How I Make that Money, Honey!"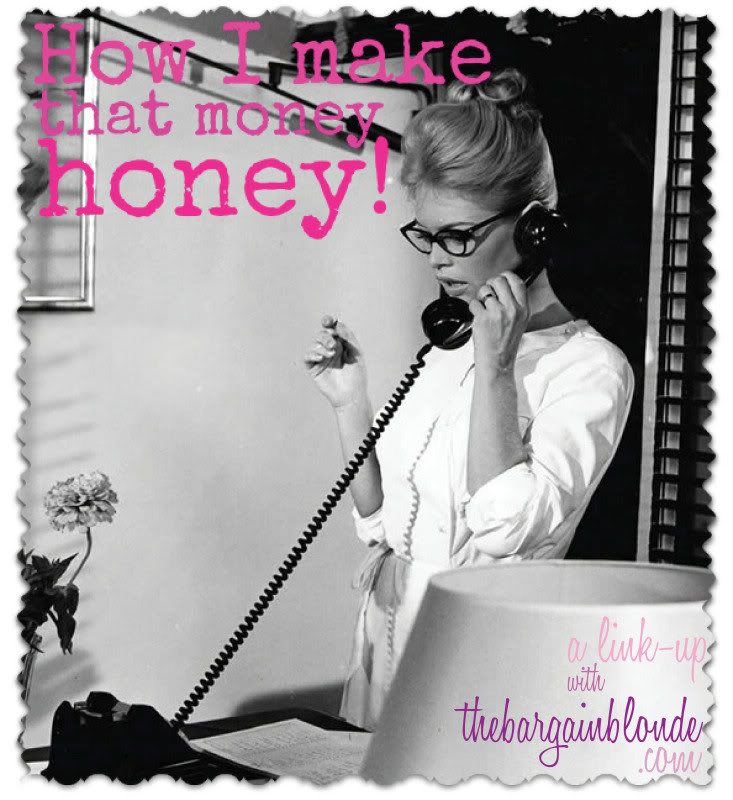 Let's start this post out by talking about where I learned my trade....
I went to college in good old New Hampshire (Live Free or Die!!) at Southern New Hampshire University!
I graduated in 2008 with a B.S. in Advertising and a minor in Public Relations
The summer after graduation I heard the same thing over and over again from a lot of people.....
"Don't get a job right away....enjoy your last summer off and start looking for a job in the fall!"
Well this sounded like a fantastic idea, but the PERFECT job landed right in my lap in July 2008! I was called by a recruiter to work for a company that specialized in online advertising networks....and the client that I would be handling would be......
I thought I was dreaming!! I went on 2 interviews and ended up landing the job! I learned A LOT working in this position and had so much fun! I even ended up making a really great friend out of the deal:)
After almost 3 years in this job I knew it was time to try something else.
I gave my notice and started work as an executive assistant/marketing assistant for a pharmaceutical company...which was pure torture.....I quit after 6 days and was officially unemployed!
Everything happens for a reason though....and if I hadn't quit my job at the pharma company I wouldn't be where I am right now! Currently I work as an Internet Media Specialist for a Property Management company. My company owns and manages apartment communities and corporate furnished suites in New England and the South East.
What I Do: Anything marketing or media related falls on my plate. On a normal day I can be found updating all of our social media content, creating marketing brochures, designing advertisements for local publications, assisting our property managers with all internet-related tasks, writing for our company blog and updating our company websites!
What I Wear: I have to say....I wish I could dress a bit more casually where I currently am. My last job allowed me to wear jeans and heels every day which was phenomenal......at my current job you might find me wearing the following....
Work It 2
by
shannflann
featuring
pleated pants
All in all I like my job. I'm doing what I enjoy and my commute is LITERALLY 6 minutes. I am able to go home for lunch every day and I'm home by 5:10 every night. Couldn't ask for much more:)
Thanks to Lindsey for hosting this link up and helping me be nosy - I'm loving finding out what you all do every day!