Who is excited that it's FRIDAY??
THIS GIRL!!!!
Even though this was my first "full week" back to work since I got married, it somehow FLEW by! I've spent the week cleaning the condo, writing lots of thank you notes, unpacking my suitcases and hanging out with family and friends:) It's been fantastic!
Now it's time to link up with your other favorite blonde....Miss Lindsey from the Bargain Blonde!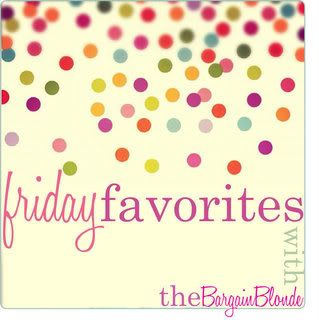 Here are my Friday Favorites this week....
It's no secret that I LOVE me some reality TV but this week my favorite is Dance Moms. Abby Lee Miller never fails to disappoint me or entertain me. I've loved catching up with her on my DVR this week - such a guilty pleasure!
It doesn't get much brighter than this, friends....and I can't wait to paint my toes in this neon hue!
I can't remember how much I spent on this from Target...but I know Walgreen's sells this brand for only $1.99 - get some for yourself as a treat this weekend:)
I have been slapping this stuff on my skin every morning since arriving home from Hawaii and I must say...it is doing it's job!
Jergens Natural Glow Firming lotion
is fantastic - it doesn't smell bad, it makes my skin feel tighter and after using it for a few days it really does give you a nice glowing color!
In our house....as soon as the calendar hits May 1st we are pretty much at the local ice cream stand 2x per week. I know....it's disgusting. But these little frosty treats manage to suck me in every time!! Monday night I decided I was going to be good....hubby wanted ice cream and so we drove down to the stand. He said "what do you want?" and I said "nothing - I'll wait in the car."
Well didn't he come back with an extra cone for me - and it was frosty and delicious:)
Who doesn't love Melissa Gorga? Seriously? She is just fantastic! She's gorgeous, fun and I just love how she and her husband are together. Let's be honest....this is reality TV and it's probably all fake, but they've roped me in and made me love them.....well played Bravo....well played!
I can't get enough of this red and turquoise trend, yet I have never worn it together! I am desperately trying to find myself some turquoise beads because I have a red dress that wants to be worn soon and it wants to be worn with a turquoise necklace!! So send me some links if you know where I can get one:)
What are YOUR Friday Favorites??