I know you are all desperately waiting for a little wedding week/honeymoon recap right?? (wrong??)
Well it's not happening today:(
For 1
...I couldn't even begin to think where my camera cord adapter thingy is....so my photos are stuck on my camera for a bit longer
2
....my professional photos just came in - but they aren't fully edited and I want them to all look
FAB
before I share them with you beauties
3
....I've missed blogging and would much rather link up with Miss Lindsey to show you my Friday Favorites today:)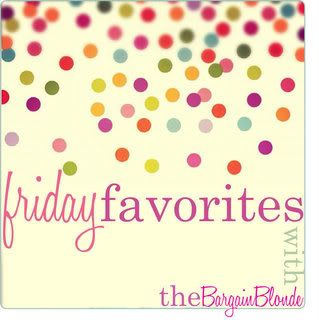 When I got home from my honeymoon the first thing I did (besides sleeping for 11 hours) was hit up Starbucks with my hunnie. Lucky for us they were handing out free samples of their new "refreshers" and I got my hands on this very berry Hibiscus tea:) Absolutely delicious....plus it makes me feel closer to Hawaii drinking something with the word "Hibiscus" in it!
This stuff is like magic potion. While I was on the cruise ship in Hawaii I obviously curled my hair a lot - and I obviously needed it to stay put in the heat and the wind.....
TRESemme Tres Two Spray
really came through for me. My curls stayed in place and my hair wasn't "crunchy" when hubby went to touch it. I was simply amazed!! I even was able to wake up with 2nd day curls....which is UNHEARD of for this girl!
You didn't think you were going to read a "favorites" post and not see a favorite vino did you?? Well let me tell you I drank a lot of vino on my honeymoon (I did go to Napa after all) but while I was on the cruise ship EVERY restaurant and EVERY bar on board carried this cabernet. It was smooth, delicious and I probably consumed about 4 bottles of this sweet nectar by the time my vacation was over. If you see it in the store...BUY IT!
Chateau St. Michelle Cabernet Sauvignon
Can't get enough of this Eli Young Band song:) Love the lyrics, love them! For some reason this song has been stuck in my head for the last few days and I'm loving the way the lyrics make me feel!
It's not an urban legend....asparagus really does make your pee stink.....but I can't get enough of it. I have eaten asparagus the last 3 nights and I want more tonight! You can do so much with it and it tastes delicious! My favorite way??
Toss your asparagus in some olive oil, salt & black pepper then throw it on the grill (in a grill pan or on some foil) it is a perfect summer side dish.....but you've been warned.....hold your nose when you pee later!!
This blouse
was the best $26 I've ever spent. I purchased it last minute before leaving for my honeymoon and I ended up wearing it at least 5 times. It is SO versatile! I wore it with white pants, wore it as a cover up over my bikini, wore it tied in the front over a sundress, and wore it to keep warm on the plane. Go to your nearest Old Navy and get one NOW!