Happy Friday, everyone! We made it!
Things I am looking forward to....
Happy Hour
70+ degree weather this Sunday
St. Patty's Day
Getting a manicure
Dinner with the fam
Beginning to address the wedding invitations
Sunday morning breakfast with M
Visiting my Nana
It's all happening this weekend and I am thrilled!!
It's time to link up for Fun Photo Fridays!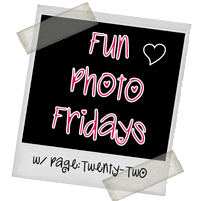 Photos are memories for us to keep and share...so let's start sharing them!! Whether you are sitting in your cubicle until 5:00 today or dozing off in a boring class there is probably some other place you wish you could be right now,
right
?? So let's have at it.... if you could transport yourself back to a moment in one of your favorite photographs which one would you choose today??
Today I am jumping back into this photo...
This was taken on M's birthday in 2010. A bunch of friends came over to our condo, we grilled out, played drinking games on the lawn, card games inside, caught some rays, then hit up some bars in New Hampshire at night. This was taken at one of my favorite bars in the area, The Peddler's Daughter. We danced and sang along with a cover band, said cheers to the birthday boy, ate late night pizza and burgers and made some memories.
Bring me back there now!