We've made it to FRIDAY!!
How exciting is this? It's time for the weekend which means time for relaxing, meeting up with friends for dinner, grabbing a beer (or 6) at the local bar ....you name it!
The possibilities are endless....
Did anyone else love this song back in the day??
I used to rock out to this on Napster, in my parent's living room, while I chatted up with my friends on AOL Instant Messenger. We would discuss our plans for the weekend which usually included scoping out some hotties at the mall and seeing a movie (or sneaking into 2 if we were feeling frisky)
Those were the days huh?
Anywho....Moving on to...
FUN PHOTO FRIDAYS!
Link up with me!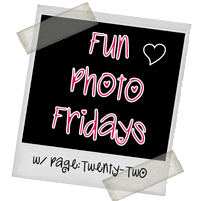 Photos are memories for us to keep and share...so let's start sharing them!! Whether you are sitting in your cubicle until 5:00 today or dozing off in a boring class there is probably some other place you wish you could be right now, right?? So let's have at it.... if you could transport yourself back to a moment in one of your favorite photographs which one would you choose today??
Today I am jumping back into this photo....
Two of my besties from college are meeting up this weekend in New Orleans and I couldn't make the trip:(
I am devastated that they are gonna have a great time without me. So in honor of them I am jumping back into this photo.
It was May of 2008. Our senior class in college took a trip down to Disney in Orlando for 4 days before we graduated. Basically these 4 days were a blur of fruity cocktails, sun, bikinis, Minnie Mouse ears, Splash Mountain, Pleasure Island, dancing and complete craziness. After several hours in the sun and several "poolside lemonades" my roomies and I went back to our hotel room to nap (with aviators and minnie ears included). Don't let my drunk artistic camera skills fool you! That's me on the bottom there!
Drunk, tanned and without a care in the world.....
oh the glory days....I miss you!