Hi Ladies!
You are in for some fun today...a double link up!
I couldn't resist participating in 2 fun posts so that's what we'll be doing!

Also, can you believe I'm getting close to 100 followers? Wow - can't believe I might hit that milestone after blogging for 3 1/2 months. You guys are AWESOME! The wheels are turning in my head right now for some kind of spectacular giveaway...so stay tuned!!!

Without further adieu....Today's post!
So Its Ok...
That I CANNOT WAIT until Saturday because its wedding cake tasting day!
That I haven't made my bed in about a month
That I almost broke my ankle walking down 4 flights of stairs at work in 4 inch heels on Monday and I've proceeded to wear the same shoes every day since then...AND climb the stairs!
That we bought our wedding bands during the "Valentine's Day Sale" at the jewelry store just so we could save 20%.
That it NEVER fails...I always spell the word "jewelry" wrong and spell check has to fix it
That I have a hard time giving up control with any of my wedding planning and want to do it all myself
That I would kill someone for a bag of reeces pieces right now (or sour patch kids, or junior mints, or m&ms...ok let's be honest I would kill for any candy)
Now onto Eff, Marry, Kill
w/ Blonde...Undercover Blonde
&
The Vintage Apple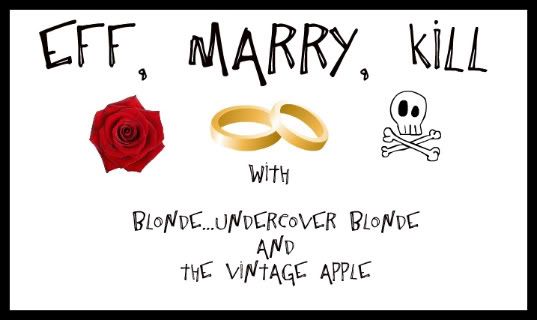 Today I present you with....The Men of 90210 (The original)
Let's be honest...I'm not even going to give Steve Sanders a shot here...
I'm not gonna lie. Originally I was positive how this was gonna turn out. Then I got to thinking about these guys and their characters in the show and I changed my mind. So if we are basing this off of their characters its gonna go a little something like this...
Eff - Dylan McKay -
He was the loner...the bad boy...the one who was into drugs but made it look cool. I used to WISH I was Shannen Doherty back in the day (thank gosh that wish didn't come true...Am I right?) He's not the guy you wanna see every day for the rest of your life though cuz he's kind of sketchy. Dylan gets the eff, but I'm making sure he's out of my house quickly after. I don't want him stealing anything from my purse while I'm asleep.
Marry -
Brandon Walsh -
Brandon was the glue that held the whole gang together right? He was the nice guy who always seemed too mature for high school (probably cuz he was almost 30 when he played a sophomore). I have to marry Brandon. As long as his gambling addiction doesn't resurface. I can't afford that. I can just picture us now, holding hands and drinking a milkshake at the Peach Pit...til death do us part:)
Kill -
David Silver -
In reality this guy is good enough for Megan Fox but in 90210 world he was a whiny wannabe. He was accepted by the "cool kids" only by default and was always trying to push his music on everyone. He annoyed me on the show. He owned an abundance of vests and rocked some pretty questionable jewelry in the early seasons. For that and that alone he's getting the kill.
Have at it, ladies!! How do these guys measure up in your opinion?