Happy Valentine's Day to all of my loves out there!
First things first...I participated in a Valentine Card Swap this year with Melina and Summer and was excited to get paired up with Melina herself! If you haven't checked out her blog (Only A Flight Away) yet you should!! And you can do so
here:
)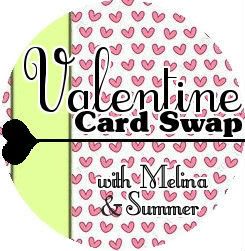 This pretty lady sent me an adorable homemade Valentine along with some other fun (and yummy things!) The second I ripped open the package and saw there was chocolate inside I couldn't contain myself! (You know I had given up sugar after all and was having serious withdrawals!) M looked at me like I was a crazy person as I ripped open the box and shoved chocolate in my face. I didn't even have a chance to take a good picture before I dove in! Here are some of the photos of the loot the beautiful Melina sent me:)
I also was lucky enough to receive a Valentine in the mail from Miss P!inky over at
P!nk Persistence
! I am one lucky lady! I hope M can measure up to all of you ladies tonight when we celebrate Valentine's Day!!!
We have dinner reservations at our favorite steak house tonight so needless to say there will be lots of red wine flowing and lots of stuffing my face. I can hardly contain my excitement:) I will leave you will some photos of my Valentine and I. Have a wonderful day:)